If a final coronavirus relief bill passes, your second stimulus check could arrive more quickly than it did in the first round. We worked out some potential dates for when it could happen, based on what we know today.
The Democratic-led House of Representatives will return to Washington on Saturday to vote on a USPS rescue bill, while Republicans plan to introduce a "skinny" coronavirus relief bill of their own. But what does that mean for the stimulus negotiations that would finalize a second stimulus check? And how soon could that check arrive through direct deposit or mail for eligible Americans?
Both political parties have agreed that another coronavirus relief package should include a second stimulus check for Americans — tens of millions of whom are facing unemployment, food insecurity, evictions and car repossession as the recession caused by the coronavirus pandemic wears on. But with talks on another stimulus package stalling out before the House and Senate went on recess Aug. 7, calls from both sides to strike a deal are growing more urgent. The question remains: When will it happen?
"We do need another bill," Senate Majority Leader Mitch McConnell said Monday. "And I'm hoping that this impasse will end soon and we can get together and go forward in some kind of mutually agreed way."
While the timeline for passing a bill is still uncertain, we do know one thing. Treasury Secretary Steven Mnuchin has said he's prepared to send the new stimulus payments about a week after a final package passes. By comparison, the IRS sent the first round of payments nearly three weeks after the CARES Act passed in March.
We've calculated some possible dates for when another direct payment may come your way, if a second stimulus check is signed into law. This story is updated frequently.
How soon could the IRS deliver a second stimulus check?
Several scenarios could play out. Though still unlikely, Republican and Democratic negotiators could resume discussions and reach an agreement in late August — House Speaker Nancy Pelosi has called the House back into session to vote on the US Postal Service bill, but it's unclear if stimulus package discussions will continue. Negotiations could also slide into September after the new congressional session officially begins.
Complicating the timeline, both parties hold their national conventions this month — the Democrats started on Monday, and the Republicans begin next week. Meanwhile, the Senate is adjourned until after Labor Day, which is Sept. 7.
Here are some possible dates that another stimulus bill could pass and the IRS could send the first checks. For reference, we also include the timeline for the now expired CARES Act. The payments don't go out to everyone at once, so we'll go over what groups of people could get their payment first.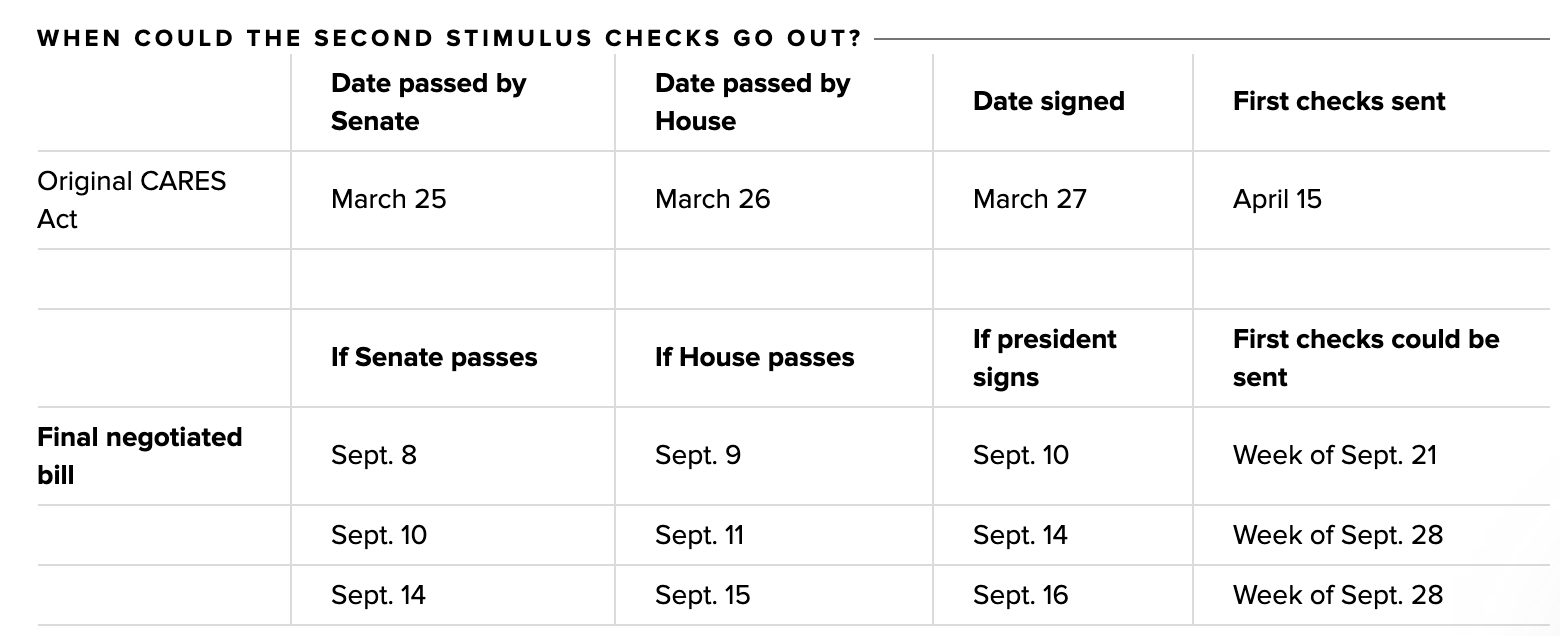 ---
Isler Northwest LLC is a firm of certified public accountants and business advisors based in Portland, Oregon. Our local, regional, and global resources, our expertise, and our emphasis on innovative solutions and continuity create value for our clients. Our service goals at Isler Northwest is to earn our clients trust as their primary business and financial advisors.
Isler Northwest
1300 SW 5th Avenue
Suite 2900
Portland, Oregon 97201
https://www.islernw.com/wp-content/uploads/2020/08/2nd-stimulus-check-schedule.jpg
320
845
IslerNW
https://www.islernw.com/wp-content/uploads/2013/12/header_logo_trans.png
IslerNW
2020-08-10 19:06:11
2020-08-20 19:45:05
Second stimulus check payment schedule: How fast could the IRS send your money?